You want to know more about us? #flattered.
Here's the summary:
---
• Spikeball HQ is located in Chicago but most employees live elsewhere. Live where you'd like, just do good work.
• The latest valuation put our CEO's net worth just shy of 43.2 million spikeballs (and counting).
• We have 30 full time employees. Yes, each of them could probably beat you in roundnet but they'd do it in a nice way and you could still be friends after.
---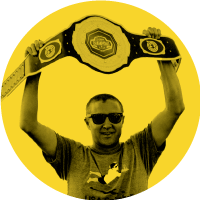 CEO, Spikeball Inc. @spikeballchris (Twitter and Instagram)
I launched Spikeball Inc in 2008 with no real clue about starting a business, let alone launching a new sport. Yet, here we are with 4+ million players (all over the world), 30 full-time employees, hundreds of tournaments every year, and tons of love from Dude Perfect, Casey Neistat, The Jonas Brothers, Inc Magazine, and countless professional athletes and celebrities. I ran it for 5 years as a side business figuring out things like ecommerce, product design, customer service, shipping, finance, and more. My degree in Photojournalism didn't really prepare me for this. I'd come home from my corporate day job, hang out with my wife and 3 young kids, and once they went to bed Spikeball work would begin. My typical Spikeball shift was 9pm to 1 or 2am every night with me heading to a late night post office around midnight to ship that day's orders. Our first 'warehouse' was my basement. I had around 800 sets down there and could fit about 72 sets in my beat up, 1998 Outback (may it rest in peace). 5 years later, in 2013, we hit $1 million in annual revenue with zero full-time employees. At that time, I called up the boss, said "I'm out!", and went full-time. The mission of the company is to create the next great global sport. That's happening through tournaments, pick-up games (you can find them in your area on the Spikeball app), schools, and more. With that said, THANK YOU for joining me on this ride. Hopefully I'll see you at a tournament or at a pick-up game soon.
Much appreciated,
Spikeball Chris
OUR MISSION, VISION AND VALUES
MISSION: To bring people together through competition and fun.
VISION: To become the next great global sport.
__
VALUES:
#1. Have fun.
#2. Trust. Give it until you shouldn't.
#3. Be optimistic.
#4. Go big. Failure is part of success.
#5. Listen. Improve. Always be learning.
#6. Be different. Embrace change and status the challenge quo when necessary.
#7. Surprise and Delight.
#8. Bring people together and build community.
#9. Own it.
#10. Don't be a jerk. See above. 

---